Halloumi cheese, originally from Cyprus, is known for its firm consistency and is made from a mixture of goat's, sheep's and cow's milk and is one of the most popular cheeses throughout the Mediterranean region.
Thanks to its high melting point, Halloumi can be cooked directly on the griddle or grill without melting and falling on the cooking surface or embers.
However, one question still remains to be answered.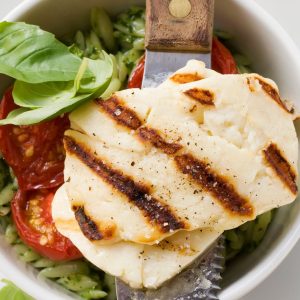 ¿What is Halloumi?
Originally prepared in Cyprus traditionally from goat's and/or sheep's milk, but in the Eastern Mediterranean, Halloumi is a white cheese with a texture similar to mozzarella. It is a type of semi-hard cheese, unripened and in brine, with a somewhat spongy texture.
It is characterized by a spicy, salty flavor and has no rind. Halloumi is sometimes produced with cow's milk. The milk may or may not be pasteurized. This cheese can be eaten raw, but due to its high melting point, it is an ideal cheese for grilling or frying.
If you try Halloumi Crudo, it is easy to eat and has a rubbery texture, with a slight salty taste. Then, once cooked in a pan or on the grill, it is wonderfully crispy and flavorful on the outside and melty on the inside, similar to the consistency of a grilled provoleta (Provolone).
Halloumi has become increasingly popular. You can find it in supermarkets in the deli aisle, or well-stocked specialty stores and the price is reasonable. Halloumi can also be bought online.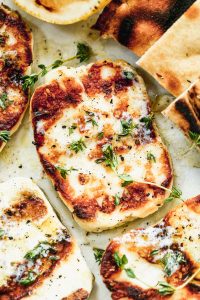 ¿How is Halloumi made?
The process of making Halloumi begins by heating the milk and adding rennet to coagulate it. Once the curd is formed, it is cut and the whey is drained off, then molded and left to harden.
The cheese is then immersed in water or whey and cooked, which gives it its resistance to cooking. Salt is then added and, in Cyprus, it is sprinkled with mint before it is ready to be eaten.
Halloumi can be enjoyed fresh within three to five days or preserved in brine and matured for several months to intensify its salty flavor. Unlike other types of cheese, Halloumi does not require acids or bacteria for its production.
Characteristics
Halloumi is a firm-textured cheese and is sold in compact forms and vacuum-packed in plastic, similar to feta cheese. Many cheeses similar to Halloumi are prepared by dairy and goat producers in Canada and the United States, although for legal reasons, they cannot be called Halloumi. In some cases they are known as cheese for barbecue, frying cheese or queso de freír in Spanish.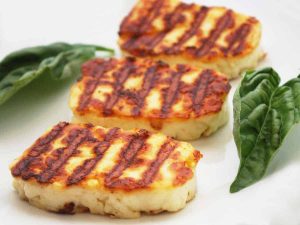 ¿How is the taste of Halloumi?
The taste of halloumi is mild and creamy, and is described as a cross between a softer, less salty feta and mozzarella. It has a buttery flavor and is truly spectacular.
¿Which are the substitutes for halloumi?
In some recipes, tofu or paneer cheese can be used as substitutes for halloumi, although they will not be exactly the same. For eating raw, a firm, dry feta cheese is slightly similar.
¿What are the recommended uses and recipes for halloumi?
Halloumi is recommended to try grilled, fried or thinly sliced. It can be eaten in salads or used as a substitute for mozzarella in a caprese. It can also be used to replace bread in sandwiches or to be eaten with fruits, such as watermelon. It is ideal heated or otherwise cooked to enhance its flavor, and becomes flavorful and creamy when cooked. Grilled or fried, it is especially delicious.
Nutritional table
A 28-gram serving of Halloumi contains the following nutrients:
Calories: 110
Carbohydrates: 0 grams
Protein: 7 grams
Fat: 9 grams
Calcium: 25% of the Daily Value (DV)
Sodium: 15% of the DV
Benefits:
Rich in protein
Benefits for bones (Calcium)
Healthy against diabetes