Fontina cheese is recognized for being a versatile ingredient in the kitchen, used not only in fondue but also in pastas, sauces and cheese boards, as well as to accompany desserts and seasonal fruits such as pears, cherries, apples, grapes and figs, or dried fruits such as almonds, walnuts, apricots, figs, dates and plums.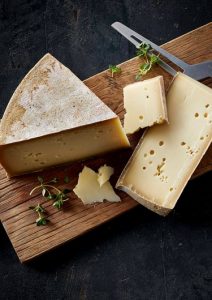 ¿What is Fontina Cheese?
Fontina Val D'Aosta DOP is a classic Italian cheese that has been produced in the Aosta Valley for over 800 years. Although there are other varieties with similar names, such as "Fontinella", "Fontal" and "Fontella", Fontina Val d'Aosta is the original and most famous, identified by the seal of the Consortium. The Danish version is distinguished by its waxy red rind, while the Italian Fontina has a natural rind that changes color as it matures.
Fontina cheese is made from unpasteurized cow's milk and its texture and flavor depend on the ripening time, which can range from semi-soft to firm, and from mild and rich to robust and dominant. The fat content of Fontina is 45% and its interior is cream-colored with holes. Over time, the flavor of the cheese intensifies and becomes creamier.
Fontina is a popular ingredient in Italian cuisine and is especially suitable for dishes such as fondues and other Italian dishes. In addition, Nebbiolo red wine, with notes of wild cherries and truffles, pairs well with this cheese.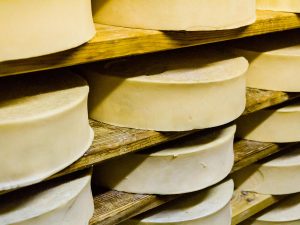 ¿What are some alternatives to Fontina cheese?
There are several options, such as Fontinella, Fontana, Fontal, fontina "swiss way", fontina "italian way", among others, which are variations of the original Fontina, but may have different properties and flavors due to alteration of the process by the cheesemaker.
Other alternatives include:
Raclette:
Known for its strong aroma and mushroom flavor, this cheese melts very well and pairs well with many of the same flavors as Fontina Val d'Aosta.
Fresh Gruyere:
Although Gruyere becomes less similar to Fontina with age, a young Gruyere cheese has a nutty flavor and relatively high moisture that makes it similar in many of its characteristics.
Challerhocker:
This washed-rind Alpine cheese has a sharp flavor, low moisture and elastic curd, making it a good substitute in recipes and cheese boards due to the predominant similarities.
Gouda:
With an intense flavor and a spongy curd that melts well, Gouda is a good alternative to Danish or American-style Fontina.
Provolone:
Because its production uses a lipase enzyme, it has a similar sharpness to that present in Fontina, although it does not have its mushroom flavor. It melts well and can be used as a substitute in sandwiches or pasta dishes.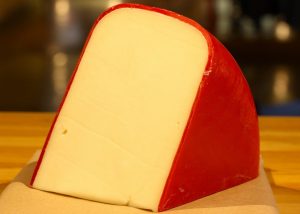 ¿How is it produced?
Cheese making begins with raw milk from a single milking that must be processed into cheese within two hours. Raw milk contains natural antimicrobial enzymes that reduce the pathogen content in the milk.
In the cheese dairy, experts add indigenous Streptococcus thermophilus and Lactococcus lactis to strengthen the cultures present in the raw milk. They use calf rennet to coagulate the acidified milk into curd, which is then molded and pressed briefly.
The cheese wheels go through a brine period, where they are turned and brushed with a saline solution every two days. This washing process creates surface cultures, such as coryneform bacteria, lactic acid bacteria and various yeast species.
The result is a semi-hard, creamy, yellowish cheese with small, distinctive holes (like those of Pategras but smaller) and an orange rind. It has a reputation for melting and grating very well, and its earthy, mushroomy flavor intensifies with aging in caves.
If you like this cheese, you can try other cheeses such as Cream Cheese, Mahón or Feta.
How to pair Fontina cheese
Authentic Fontina Val D'Aosta is a tangy, versatile cheese that pairs well with a wide variety of foods. It is perfect with meats and grilled vegetables, but it also goes well with simple flavors that allow the cheese to shine on its own, such as a slice of toasted bread. To enjoy it to the fullest, Italians recommend pairing it with a robust Chianti wine.
Softer types of Fontina harmonize well with sweet, fresh and fatty foods, such as ham and fresh vegetables, or a robust fruit such as dried figs or strawberry jam along with a Pinot Grigio.
In summary, the Fontina cheese category includes many types of cheeses that share some key characteristics, such as a high fat content, a sharp lipase-induced flavor, similar cultures that make small cheese eyes, and good melting ability. To fully enjoy the experience, it is advisable to try both Fontina Val D'Aosta and the milder versions from California or Denmark.