¿Have you ever tasted Italian Pecorino cheese? It's a hard cheese made from sheep's milk that has an unmatched taste and is also beneficial to your health. Studies have shown that the high levels of CLA found in Pecorino cheese can help reduce BMI and the risks of diabetes and health-damaging inflammation.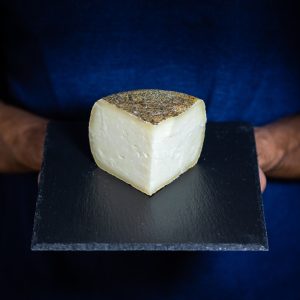 ¿What is Pecorino Cheese?
Pecorino cheese is an Italian name used to refer to all Italian cheeses made from sheep's milk. Pecorino Romano is the most common and refers to Pecorino cheese from the Rome region, while Pecorino Siciliano comes from Sicily. These cheeses have a drum shape and a brown rind, are hard paste and are generally produced between November and June. Pecorino Romano has a pleasant sour and salty flavor and can be used in salads, pastas and on the cheese board.
Characteristics
Origin: Pecorino cheese is a type of Italian cheese made from sheep's milk.
Texture: It has a hard and crumbly texture, and it is usually aged for several months.
Flavor: The flavor of pecorino cheese is strong and salty, with a slightly tangy and nutty taste.
Aroma: Pecorino cheese has a distinctive, pungent aroma.
Color: The cheese is usually pale yellow or white in color, with a hard, natural rind.
Nutrition: It is a rich source of protein and calcium, and it also contains CLA (conjugated linoleic acid), which may have health benefits.
Varieties: There are different varieties of pecorino cheese, such as Pecorino Romano, Pecorino Toscano, and Pecorino Sardo, each with its unique taste and texture.
Culinary uses: Pecorino cheese is commonly used in Italian cuisine, particularly in pasta dishes, salads, and soups. It is also great for grating over vegetables or meat.
What is the difference between Pecorino and Parmesan
The main difference between Pecorino and Parmesan cheese is that Parmesan is made from cow's milk, while Pecorino is made from sheep's milk. Pecorino is also much younger than Parmesan, as it is only matured for five to eight months, which gives it a strong, sharp flavor.

¿How can Pecorino cheese be enjoyed?
Pecorino cheese is a delicious addition to a cheese board, charcuterie and appetizers, as well as an excellent choice to accompany salads, vegetables and fruits. It is especially popular in pasta dishes and risotto, and is often used as a substitute for Parmesan cheese thanks to its unique flavor.
¿Is Pecorino cheese easy to digest?
Yes! In addition to being a source of energy, Pecorino cheese is easy to digest and contains less cholesterol and lactose than other cheeses. Because sheep's milk contains less lactose than cow's milk, it is an excellent choice for people with lactose intolerance.
The history of Pecorino cheese
The history of Pecorino cheese dates back to Roman times and can be traced through its name. During that time, it was part of the staple diet of soldiers at war and was mentioned by authors such as Varron, Pliny the Elder, Hippocrates and Columella in their works. Today, the cheese is still made following the traditional method, with the wheels salted by hand several times to achieve its distinctive flavor. Its long ripening time, ranging from 8 to 12 months, gives it a dry, grainy texture and a strong flavor. In its youth, the cheese has a soft, rubbery texture with a sweet, aromatic flavor, but as it ages for more than 8 months, the flavor becomes sharper and smokier.
¿Which are the substitutes for pecorino cheese?
There are several substitutes for pecorino cheese that can be used in cooking or as a topping for salads or pasta dishes. Some popular substitutes include:
Parmesan cheese – Parmesan is a hard, aged cheese with a salty, nutty flavor that is similar to pecorino. It is made from cow's milk rather than sheep's milk.
Asiago cheese – Asiago is an Italian cheese that is also made from cow's milk. It has a similar texture to pecorino and a slightly nutty flavor.
Manchego cheese – Manchego is a Spanish cheese made from sheep's milk. It has a similar texture to pecorino and a slightly sweet, nutty flavor.
Romano cheese – Romano is another Italian cheese that is made from cow's milk. It has a similar flavor and texture to pecorino, but with a slightly sharper taste.
Grana Padano cheese – Grana Padano is an Italian cheese made from cow's milk. It has a nutty, sweet flavor and a texture that is similar to parmesan.
Recipes with Pecorino Cheese
The Pecorino has an incredible flavor and difficult to beat by other cheeses, to enjoy it in the best way it is ideal to use it in savory preparations.Here are three recipe ideas that include pecorino cheese:
Pesto pasta with pecorino cheese: Cook your favorite pasta and set it aside. In a food processor, blend together fresh basil, garlic, pine nuts, olive oil, and grated pecorino cheese until it forms a smooth pesto. Toss the pasta with the pesto and sprinkle additional grated pecorino cheese on top.
Grilled asparagus with pecorino cheese: Preheat a grill or grill pan over high heat. Trim the woody ends off of asparagus spears and coat them with olive oil. Grill the asparagus until they are tender and slightly charred. Transfer them to a platter and sprinkle generously with grated pecorino cheese.
Arugula salad with pecorino cheese: Toss fresh arugula with olive oil and lemon juice. Top the salad with shaved pecorino cheese and toasted pine nuts. Add salt and black pepper to taste.
¿How does pecorino cheese taste?
Pecorino cheese has a distinct and bold flavor that can range from salty to nutty and slightly tangy. Its taste can be described as savory, sharp, and slightly pungent, with a firm and granular texture that becomes crumbly as it ages. The intensity of its flavor can vary depending on how long it has been aged, with younger pecorino having a milder taste compared to aged varieties. Overall, it has a unique and flavorful taste that pairs well with a variety of foods.