If you are looking for an authentic French cheese, you have come to the right place. Brie, with its traditional recipe and variations, is a clear demonstration of French cheesemaking prowess (and also in the production of wines and baguettes ;-)). For these reasons and many more, here you will discover everything you need to know about this exquisite culinary specialty. ¡So let's get started!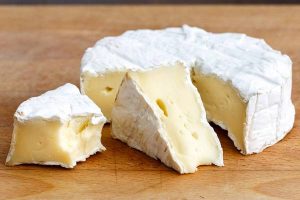 ¿What is Brie cheese?
Brie cheese is a whitish-colored, soft-textured dairy product, commonly made from cow's milk. It is characterized by its puffy rind of white mold, considered a delicacy. Originating from the Seine-et-Marne region of France, this farmhouse cheese has a rich, buttery, fruity flavor with earthy notes that intensify with maturity. Its texture is liquid and creamy, and its aroma is strongly earthy. Although France has a wide variety of delicious cheeses, creamy Brie is one of the country's main exports.
Brie characteristics
In the United States, it is not possible to import authentic French Brie cheese, as it is made from raw milk and must mature for at least 60 days before entering the market, making it too hard and parked for consumption. However, France exports a pasteurized version of Brie that is available worldwide.
Brie cheese is a soft, mature variety with a creamy interior and a white rind, which is commonly made from cow's milk and marketed in the form of round wheels or forks. The pasteurized version of French Brie is cut before it reaches maturity, giving it a longer shelf life. Although its flavor is milder than authentic French Brie made from raw milk, it is still rich and buttery, with a slight earthy, fruity flavor that intensifies over time.
Brie cheeses made from pasteurized milk tend to have a milder flavor than the authentic variety, but are equally popular and are produced in several countries, including Argentina. These domestic and international versions of Brie can be made from whole or skimmed cow's milk, as well as goat's milk, and are readily available at a moderate price.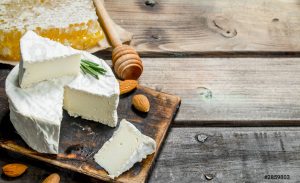 In brief:
Milk: Traditionally cow's milk; some varieties use goat's milk.
Origin: France
Texture: Smooth, creamy, fluid
Rind: Edible, soft, puffy
Substitutes
Brie can be replaced by other soft cheeses, with soft ripening and soft rind, such as Camembert, Brillat-Savarin, Saint-André, Mt Tam or Cuartirolo.
How to pair and how to eat brie cheese
Brie cheese is perfect for inclusion on a cheese board and is best enjoyed at room temperature with fresh fruit, nuts, baguette bread and crackers. The options for using Brie are varied and range from being baked, eaten alone or melted in pastas, with bread, cold cuts and fruits. Brie cheese can be melted in slices or chunks and used in stews, sauces and various foods. It can also be used as a topping on nachos, pizzas, grilled sandwiches and paninis, as well as on hamburgers and burritos.
There are different ways to eat Brie cheese, depending on your preferences and the occasion. Here are some common ways to enjoy Brie cheese:
Serve it at room temperature: Take the Brie cheese out of the fridge and let it sit at room temperature for about an hour before serving. This will enhance its flavors and aromas.
Cut the cheese properly: Use a cheese knife to cut the Brie cheese into wedges or slices. Cut off the rind, if you prefer, but some people like to eat it. Avoid cutting the pointed end of the cheese as it's the most flavorful part.
Pair it with crackers or bread: Brie cheese goes well with plain crackers, sliced baguette, or crusty bread. You can also add some fruit, such as grapes, apples, or pears, for a sweet contrast.
Add some toppings: You can top your Brie cheese with honey, nuts, jam, or chutney for a touch of sweetness or spiciness.
Melt it: Brie cheese is delicious when melted, either in the oven or on a pan. You can serve it as a dip with bread or vegetables, or as a topping for burgers, pizzas, or sandwiches.
Use it in recipes: Brie cheese can be used in many recipes, from quiches and omelets to salads and pastas. It adds a creamy and rich flavor to any dish.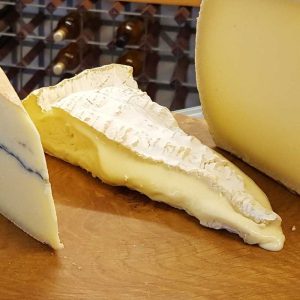 Origin of Brie
Brie cheese originated in the region of Meaux and Melun, located 56 km east of Paris, and was created by monks in the 7th century, like many other cheeses. Throughout history, Brie has been widely mentioned in history books, and even Charlemagne himself, in 774, expressed his admiration for its flavor by stating that he had discovered "one of the most delicious things" by tasting this cheese.
Brie Calories
A portion of 100 grs has:
Calories: 351
Calories from fat: 270
Total fat: 30,2g
Saturated fat: 19,2g
Trans fat : 1,2g
Cholesterol : 108,3mg
Sodium : 699,1mg
Potassium : 151,3mg
Carbohydrates : 0,5g
Dietary fiber : 2,3g
Sugars : 0,5g
Protein : 18,5g
Recipes with brie cheese
Brie cheese is a versatile ingredient in the kitchen and can be used in a wide variety of recipes. Some of the most popular recipes that can be made with Brie cheese include:
Baked Brie cheese: this is a classic recipe that involves cutting off the top rind of Brie cheese and placing it in the oven to melt. It can be served with bread, fruit and nuts.
Salad with Brie cheese: Brie cheese can be added to a salad with greens, nuts, fruits and an oil and balsamic vinegar dressing.
Brie cheese pizza: Brie cheese can be placed on the pizza along with other ingredients such as tomato, olives and ham.
Pasta with Brie cheese sauce: Brie cheese can be used to make a creamy sauce for pasta, mixing it with milk and spices.
Brie cheese sandwich: Brie cheese can be placed on a toasted sandwich together with lettuce, tomato and mustard.
Brie savory tart: Brie cheese can be added to a savory tart with caramelized onion, spinach and egg.
In short, Brie cheese is a versatile ingredient in the kitchen and can be used in a wide variety of recipes, both savory and sweet.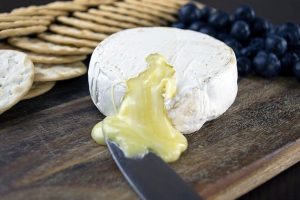 How to cut Brie
To cut Brie cheese properly, it is recommended to use a special cheese knife, as an expert would do it. When cutting a portion, it is important not to cut off the tip of the cheese, as this is usually the most delicious part. Instead, it is advisable to cut along the wheel of the cheese to ensure that each portion has a little bit of everything. Brie should be enjoyed slowly and can be served on a cheese board or in a sandwich after savoring it.
How to store Brie correctly
To preserve Brie, it is advisable to keep it in its original package and refrigerate it until it is ready to be consumed. To best enjoy its flavor and texture, it should be removed from the refrigerator one hour before serving so that it reaches room temperature. Once opened, it should be wrapped in plastic wrap or in the original package and then stored in an airtight container with aluminum foil or plastic wrap for up to two weeks.
Before tasting Brie, it is important to examine it carefully. The rind should be fresh and white with no sticky or brown spots of moisture.
¿Is it possible to freeze?
Brie can be frozen for up to three months. To do this, it is necessary to wrap the cheese wheel in plastic wrap or aluminum foil, and then store it in a "Ziploc" type vacuum bag to prevent air from entering. Before using it, it is necessary to let the cheese thaw in the refrigerator overnight. It is important to keep in mind that the texture and consistency of brie may be affected by freezing, so it is advisable to use it in cooked dishes.
¿What is the difference between Brie and Cammembert?
Generally speaking, Brie and Camembert are often compared because of their similarity. They can often be interchanged and this can lead to confusion. Both are cheeses originating in northern France, made from cow's milk and with a soft, edible, puffy rind. The flavor of Brie is milder and creamier, while Camembert has a slightly stronger flavor, with a distinctive earthy taste.
Although the textures of Camembert and Brie are similar, Camembert tends to be denser while Brie is slightly lighter. The technique used by cheesemakers to make Camembert is very similar to that of Brie, but differs in that Brie has added cream, which increases its fat content and gives it a creamier texture than Camembert. In terms of fat content, Brie has 60% milk fat, while Camembert has 45%.
Another difference between the two cheeses is the number of times the lactic ferment is added during processing. Brie is only introduced once at the beginning, while Camembert is added five times during production, which gives it a more intense flavor.
¿How is made?
Brie cheese is made from raw cow's milk or pasteurized milk, to which rennet is added to coagulate the milk. Once coagulated, the mixture is cut into small pieces and gently heated to separate the whey. It is then molded and left to mature for several weeks in a room with controlled temperature and humidity.
During the ripening process, a white, velvety rind forms, which is characteristic of Brie. The rind is formed by the action of a fungus called Penicillium candidum, which is added to the surface of the cheese during the manufacturing process. As the cheese matures, the fungus penetrates the interior of the cheese, giving it its distinctive flavor and aroma.
Brie comes in the form of a large wheel with a diameter of about 30 centimeters and a thickness of about 3 centimeters. Some Brie producers add heavy cream to the milk mixture, which gives the cheese a more buttery and creamy flavor.