Bocconcini is a very versatile cheese that can be served in slices on salads, pizzas or as an appetizer. It is very popular among people for a variety of reasons.
The name Bocconcini means "little bite" in Italian, and they are small balls of mozzarella cheese about the size of a golf ball. They share many similarities with Mozzarella in that they are semi-soft, white, rindless cheeses, but unlike sbrinz.
Originally from Naples, this cheese was made only from buffalo milk, but today it is more commonly found as a combination of water buffalo and cow's milk. Bocconcini are packed in whey or water, and their spongy texture allows them to absorb the flavors of the other ingredients in your dish.
Bocconcini is made using the pasta filata method, which involves dipping the curds in hot whey and then kneading, tossing and stretching them.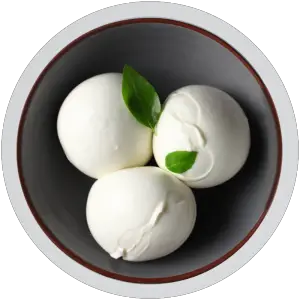 Cada pieza de queso tiene una forma única y pequeña, similar a la de un huevo. De hecho, a veces se le llama "huevos de búfalo" o "uova di bufala". Los bocconcini baby, que son una versión más pequeña, también son muy populares, especialmente para los niños.
Actualmente, los bocconcini de leche de búfala de agua se fabrican en las provincias de Nápoles, Caserta y Salerno, y se les llama "bocconcini alla panna di bufala". Se elaboran mezclando Mozzarella di Bufala Campana recién hecha con crema fresca. Otra opción es el Bocconcino di Bufala Campana, que es simplemente Mozzarella di Bufala Campana en forma de pequeñas bolas.
También se elaboran bocconcini con leche entera de vaca. Debido a su mayor contenido de líquido en comparación con la mozzarella estándar, tienen una textura más blanda similar al fior di latte.
Los bocconcini se pueden comprar en la mayoría de los supermercados de Italia, aunque es raro encontrarlos en otros países latinoamericanos. Este queso es ideal para la ensalada caprese o para acompañar la pasta.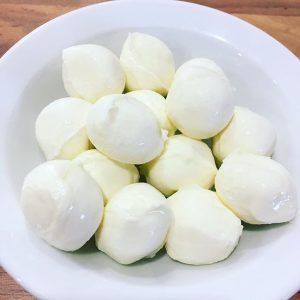 ¿What is Bocconcini cheese and why does it have that name?
Bocconcini are egg-sized mozzarella cheeses, named after the Italian for "little bites". Originating in Naples, they were originally made with water buffalo milk, but today they are mixed with cow's milk. They are semi-soft, soft, white cheeses, sold fresh in plastic tubs filled with whey or water. It is important to consume them fresh, as they are perishable.
In the provinces of Naples, Caserta and Salerno, bocconcini continue to be made using traditional methods with water buffalo milk, as bocconcini alla panna di bufala. This process involves mixing freshly made Mozzarella di Bufala Campana DOP with fresh cream. A variant called Bocconcino di Bufala Campana DOP is also produced, which is simply Mozzarella di Bufala Campana DOP in the form of egg-sized balls.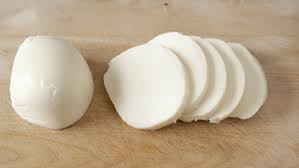 Bocconcini are ideal cheeses to enjoy in a single bite thanks to their delicate and creamy aroma and flavor. Italians enjoy them in salads, with Iberian ham or accompanying hot dishes due to their elastic texture and consistency. They are perfect to combine with Italian dishes, providing a fresh and light touch. In addition, they are excellent on their own as well as on pizzas, vegetable dishes or even in baked preparations until they melt. White wines, such as Sauvignon Blanc and Merlot, are the perfect choice for pairing with Bocconcini. These cheeses are a healthy and light option to give a special touch to our favorite dishes.
How is it made
Bocconcino is a fresh cheese made from milk curd that is stretched and kneaded to obtain a soft and elastic texture. It is then molded into small balls the size of an egg.
¿What is its origin?
Bocconcino originates from southern Italy, more precisely from the region of Naples. Traditionally it was made with water buffalo milk, although nowadays it is usually made with a mixture of buffalo and cow's milk.
¿Is it healthy?
Yes, bocconcino is a healthy choice. It is rich in calcium, iron, phosphorus and vitamins A and B, and has 25% less fat than cheddar.
How to store it
Bocconcini are sold in containers filled with water or whey and can be stored in the refrigerator for up to two days. It is best consumed fresh.
How to eat it
Bocconcino is a very versatile cheese and can be eaten in many ways. It is excellent in salads, pasta dishes, pizzas and vegetable dishes. It can also be eaten alone or in combination with other cheeses. A good pairing for bocconcini are white wines such as Sauvignon Blanc and Merlot.
In conclusion, bocconcino cheese is a delicious variety of mozzarella from southern Italy. This cheese is made from a soft curd and shaped into bite-sized balls. Bocconcino is a semi-soft, white, rindless cheese with a refreshing, creamy flavor that can be enjoyed in a wide variety of Italian dishes, from salads to pizzas and pastas. In addition, bocconcino is a healthy cheese, rich in calcium, iron, phosphorus and vitamins A and B, and with a lower fat content than other cheese varieties. For storage, it is advisable to consume it immediately or store it in the refrigerator for up to two days in its original packaging. All in all, bocconcino cheese is an excellent choice for those looking for a light and delicious option for their favorite Italian dishes.