Chipotle Queso, an exquisite culinary delicacy that combines the smoothness of dairy products with the intriguing charm of chipotle, is a gastronomic creation that awakens the senses and satisfies the most demanding palates. This fascinating fusion of flavors and textures represents a culinary gem that has captivated food lovers around the world.
Chipotle, a type of jalapeño bell pepper that has been smoked and dried, gives the cheese a unique complexity, enriching it with its smoky notes and a spicy touch that unfolds in every bite (just like these croquettes). The resulting combination is a perfect harmony between the smooth and the bold, where the creaminess of the cheese merges with the intensity of the chipotle, creating a symphony of flavors that bring to life an unforgettable culinary experience.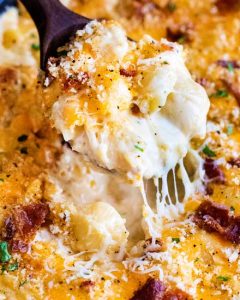 From the first taste, chipotle cheese becomes an addictive pleasure for the senses. Whether as an irresistible appetizer, a tantalizing accompaniment or a stellar ingredient in various dishes (like these blue cheese), this cheese captivates with its deep flavor and its ability to elevate any gastronomic creation to a higher level.
In this exploration of chipotle Queso and its captivating flavor, we will immerse ourselves in the nuances and contrasts that define it, discovering how a simple combination of ingredients can be transformed into a culinary delight that celebrates boldness and harmony in every bite. ¡Try this exquisite recipe!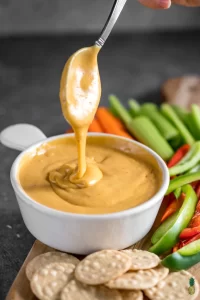 Chipotle Queso: Step by step recipe
Chipotle queso blanco is a delicious recipe that combines the mildness of queso blanco with the smoky, spicy flavor of chipotle. Here is a basic recipe for making chipotle queso blanco at home:
Ingredients:
250 grams of white cheese (can be fresh white cheese, panela cheese or ranchero cheese).
1 or 2 dried chipotles (depending on the level of spiciness you want)
2 tablespoons vegetable oil
1 clove of garlic (optional)
Salt to taste
Optional: onion, cilantro or other herbs for garnish
Instructions:
Preparation of the chipotles:
Remove the seeds and veins from the dried chipotles if you want to reduce the level of spiciness. If you prefer more spiciness, you can leave some or all of the seeds.
Wash the dried chipotles under cold water to remove dust and dirt.
Boil the dried chipotles in water for a few minutes to soften them. Then, drain them.
Preparation of the white cheese:
Cut the white cheese into small cubes or thin strips, according to your preference.
If desired, you can lightly brown the cheese cubes in a hot skillet with a little oil until golden brown around the edges. This will give additional flavor and texture to the cheese.
Preparation of the chipotle sauce:
In a blender or food processor, place the boiled chipotles, vegetable oil, garlic clove (if you are using it) and a pinch of salt.
Blend until you get a smooth and homogeneous sauce. Taste the sauce and adjust the amount of salt to your preference.
Final combination:
Pour the chipotle sauce over the white cheese cubes in a bowl or serving dish.
Toss gently to make sure the cheese is well coated with the sauce.
Optional: You can garnish the cheese with chopped onion, fresh cilantro or other herbs of your choice.
Serve your chipotle queso blanco as an appetizer, side dish or in tacos and enjoy its spicy, smoky flavor.
Remember that this is a basic recipe and you can adjust the amounts of ingredients according to your personal taste, so enjoy your homemade chipotle queso blanco!